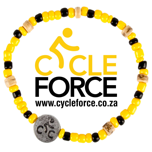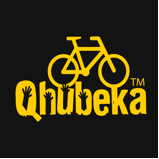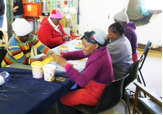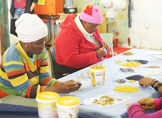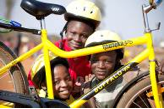 Images:
Yellow and black beaded Cycle Force bracelets made by hand

by

the MRDP Beading community

Qhubeka

bicycles designed by World Bicycle Relief
The yellow and black beaded Qhubeka CYCLE FORCE bracelets raise funds for Qhubeka to distribute bicycles into communities in South Africa. The bracelet campaign also provides local employment for a large beading community in the Marico region of Madikwe, North West Province.

The
Madikwe Rural Development Programme
(MRDP), founded in 1988, supports this community with employment and in May 2013, a group of women started beading bracelets for The Bead Co's Qhubeka CYCLE FORCE division. THE Bead Coalition, a South African company, proudly supports local employment and community upliftment. Additional employment for eight ladies, in packaging and quality control, is provided at The Bead Co's warehouse in Johannesburg. CEO, Joanne Lapin Thorpe says, "The beaded bracelet raises funds for Qhubeka to provide bicycles to underprivileged individuals in rural communities, and I am delighted that this initiative has also created opportunities for talented South Africans."
At the current level of production, the women earn in excess of their husbands. Says Colin Cooper, Chairman of the MRDP, "In the Marico area there is no work and virtually no new business, so this is an excellent opportunity for our beaders to earn a real income and to showcase their skills."
Qhubeka donates bicycles in rural villages, in exchange for planted seedlings and waste collection, serving to directly improve a community. Qhubeka aims to break the cycle of poverty while investing in the youth of South Africa. 100 000 bicycles have been distributed since 2004.
To support, buy a Qhubeka CYCLE FORCE bracelet online at www.cycleforce.co.za for R40.  In South Africa, you can also purchase at your nearest Exclusive Books or Look & Listen store.
ENDS
Issued by The Bead Co. (Pty) Ltd – division Qhubeka CYCLE FORCE
T: 083 609 1111
www.cycleforce.co.za
About CYCLE FORCE
CYCLE FORCE is a dynamic brand that creates funding for Qhubeka bicycles for underprivileged communities, through the sale of Qhubeka CYCLE FORCE beaded bracelets. CYCLE FORCE incorporates fundamental business principles to create philanthropy through commerce via retail, corporate and online platforms, CYCLE FORCE successfully achieves its mission –  "Bicycles for Africa"
About Qhubeka
Qhubeka is an Nguni (Zulu, Xhosa) word that means "to carry on", "to progress", "to move forward".
Qhubeka projects aim to help rural communities progress by giving bicycles to children in return for work done to improve their environment and their community. Team MTN-Qhubeka is Africa's most winning pro cycle race team. The talented athletes race to build exposure for Qhubeka's rural initiatives and ride to inspire potential new athletes within the community. More than 100,000 bikes have been distributed since 2004.
www.qhubeka.org