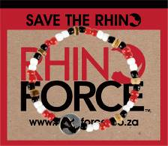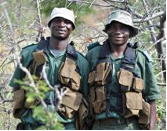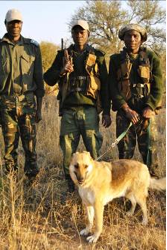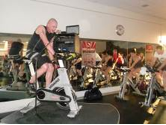 Images top to bottom:
Rhino Force bracelet on sale globally

York conservation team

consists of a warden and field rangers Spinathon at Virgin Active, Old Eds as a fundraiser
World Ranger Day, observed globally on 31 July 2013 by the International Ranger Federation (IRF), celebrates the honourable and dangerous work rangers do to protect the world's wildlife. To support South African rangers who put their lives at risk to safeguard rhinos, RHINO FORCE proudly announces a new partnership with York Private Game Reserve, adjoining the greater Kruger Park. Bracelet sales will cover the total remuneration packages of the York conservation team made up of trackers, field rangers and the head warden.
Virgin Active Gym at Old Ed's, Johannesburg, supported RHINO FORCE's latest beneficiary, by hosting a 90 minute spinathon, and raised donations of R7,700 for these brave men in the field.
In 2012, the IRF confirmed the death of 41 rangers in the line of duty.
RHINO FORCE believes rangers should be protected, valued and incentivized. "Our rangers deserve to be adequately remunerated, recognised by the media and rewarded for their efforts, creating a climate where rangers can take the war to poachers", says Joanne Lapin Thorpe, co-founder of RHINO FORCE.
York Private Nature Reserve formed by private landowners 10 years ago, lies in the South Western part of Balule Nature Reserve, and forms the unfenced South-Western boundary of the Greater Kruger system. White rhino were introduced into this area nine years ago, and York is actively involved in the WWF Black Rhino Expansion project. They protect their rhino with continuous, active, management and vigilant security measures. Andy Dott, Chairman of York and the greater Balule Reserve comments, "We are delighted to finally join forces with such a credible business and these much needed funds will go directly to the heart of the problem".
Join Rhino Force now to support field rangers for their bravery and the critical role they play in rhino conservation. According to Save the Rhino International (SRI) in the UK, rangers are the real heroes of the poaching challenge. They are at the frontline of rhino poaching and often risk their lives. "As poachers use more sophisticated methods, the fight to protect the rhino becomes an even greater challenge, making this day appropriate to acknowledge all their hard work and dedication. Happy World Ranger Day to all," says Susie Offord, Deputy Director, SRI.
RHINO FORCE is an initiative of The Bead Coalition (Pty) Ltd, a commercial, cause-related organisation. The public can support its RHINO FORCE Ranger initiative by buying a bracelet or donating directly to the York reserve rangers.
ENDS
Issued by The Bead Co. Pty Ltd – division RHINO FORCE
T: 083 609 1111
About RHINO FORCE
RHINO FORCE is a dynamic brand that creates international awareness and raises substantial funding for rhino conservation, through the sale of RHINO FORCE beaded bracelets. RHINO FORCE incorporates fundamental business principles to create philanthropy through commerce. Through the design, development and activation of multiple retail, corporate and electronic market platforms, RHINO FORCE successfully achieves its mission –  'Conservation through Commerce', commercially known as 'Save the Rhino…Buy a Bracelet'.
About York Private Game Reserve
York Private Nature Reserve was formed by private landowners 10 years ago, and lies in the South Western part of Balule Nature Reserve, forming the unfenced South Western boundary of the Greater Kruger system.
Contact : Sharon Haussmann 082 553 1566 or