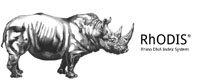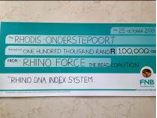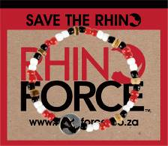 Images from Top to Bottom:
RhODIS, the Onderstepoort rhino DNA profiling database
R100,000 donated directly from the sale of RHINO FORCE bracelets
The Bead Coalition is proud to announce a donation of R100,000 to RhODIS, the Onderstepoort DNA profiling database, which will fund the indexing of 166 individual rhinos. RhODIS is the project of The Veterinary Genetics Laboratory, Faculty of Veterinary Science, at the University of Pretoria. The donation is the direct result of RHINO FORCE bracelet sales.
This local, hand-made, iconic bracelet for rhino conservation has raised and paid R4,832,997.59 to rhino conservation NGO's and charities to date. Previously disadvantaged women in rural communities in South Africa hand-bead the symbolic bracelets. "I am inspired by our loyal supporters who proudly wear the original, best-selling conservation accessory that actually saves rhinos", says Joanne Lapin Thorpe, CEO of The Bead Co, " I am equally delighted that the life of a cause can now benefit the cause of a life and vice versa".
Dr Cindy Harper, Geneticist at Onderstepoort, instrumental in developing the DNA testing of rhino, believes each rhino deserves a thorough and efficient investigation and in some cases provides evidence to ensure that a poacher or trafficker is brought to book. She thanked RHINO FORCE for the generous donation adding, "It is constantly a struggle to keep up but the kind of support that you have provided makes this possible and is a motivation to continue".
Bracelets are available at participating retailers for R40 each, for corporate sales via Amrod Corporate and online at www.beadcoalition.com, they will post anywhere in the world.
Issued by The Bead Coalition – RHINO FORCE
T: 083 609 1111
www.beadcoalition.com/ lisa@beadcoalition.com
About The Bead Co. (Pty) Ltd
The Bead Coalition [Pty] Ltd is a private commercial business based in Johannesburg. We identity specific causes, we create awareness and design themed, bespoke, beaded bracelets. Hand-made by previously unemployed communities in rural South Africa, the sale of our beaded range raises funds to make significant environmental, conversational and humanitarian change. Other bracelets include OCEAN FORCE, SA/Heritage, Literacy and QHUBEKA CYCLE FORCE amongst others. www.beadcoalition.com