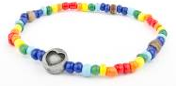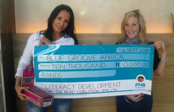 Images from Top to Bottom:
The Bead Co. launched Literacy bracelet in Sep, 2013 (for World Literacy Day, 8 Sep)
Blue Groove Africa drives SARU's CSI called 'Boks for Books'
Hand-made rainbow coloured Literacy bracelets
The Bead Co's CEO, Joanne Lapin-Thorpe presenting the first donation cheque to Elise Fish, MD of Blue Groove Africa
The Bead Coalition (Pty) Ltd, has selected Blue Groove Africa, South African Rugby Union's (SARU's) partner in the "Boks for Books" Literacy initiative, as the beneficiary of proceeds from sales of its new "I AM LITERACY" bracelet. Every bracelet sale is a guaranteed R10 for literacy development in South Africa.
The beautiful rainbow-coloured beaded bracelets, launched by The Bead Co. in September 2013, are handmade by women in a beading community in rural North West Province. The bracelet, carrying the message "Today's reader is tomorrow's leader" emphasizes the significance of improved literacy for school learners.
The "Boks for Books" initiative is SARU's first venture into CSI and was born of a desire to make a significant contribution to South African society by supplying 23 fully stocked mobile or refurbished libraries a year to previously disadvantaged schools around the country.
The 'I AM LITERACY' bracelets will be available to purchase at selected CNA stores countrywide, Exclusive Books, Norman Goodfellows and online at www.beadcoalition.com for R40 each.  They will also be distributed for sale at schools across South Africa.
CEO of The Bead Co., Joanne Lapin-Thorpe said: "Our relationship with Signet Licensing and SARU led us to Blue Groove Africa and Elise Fish, who took my breath away with her determined do-good outlook. I am deeply passionate about the cause and projects supported by sales from our bracelet."  Lapin-Thorpe continued: "Our product must support a direct and tangible initiative that makes sense to the local and international consumer. The 'I AM LITERACY' bracelet ticks all the right boxes."
Elise Fish, Managing Director of Blue Groove Africa, thanked The Bead Co. for its first R10,000 contribution to "Boks for Books" and the opportunity to do good. "The partnership with The Bead Co. is almost surreal. Having been in the NPO field for ten years, my fellow directors and I decided to focus our energies on providing libraries and media centres to deserving schools in South Africa," said Fish.
"The mission of Blue Groove Africa is to provide the building blocks for education and our goal is to populate a minimum of 200 libraries by 2020.
"We encourage as many people as possible to purchase a Literacy bracelet and assist us in providing one of the most fundamental rights, which is education, to the children of South Africa," Fish said.
ENDS
Issued by The Bead Co. (Pty) Ltd
T: 083 609 1111
About The Bead Co. (Pty) Ltd
The Bead Coalition [Pty] Ltd is a private commercial business based in Johannesburg.  We identity specific causes, we create awareness and design themed, bespoke, beaded bracelets. Hand-made by previously unemployed communities in rural South Africa, the sale of our beaded range raises funds to make significant environmental, conversational and humanitarian change. Other bracelets include RHINO FORCE, OCEAN FORCE and QHUBEKA CYCLE FORCE amongst others.  www.beadcoalition.com
About Blue Groove SA
Blue Groove Africa is a Section 21 and NPO registered organization. Our vision is to "to provide the building blocks for education, through bridged and sustainable learning, environmental and feeding facilities, with skills transfer into communities throughout South Africa". Blue Groove has been appointed by the South Africa Rugby Union (SARU) for a minimum of four years, to implement their CSI project "Boks for Books" which is a perfect fit for our "right to read" campaign.
www.bluegrooveafrica.com