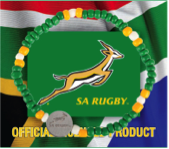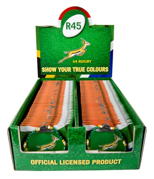 Images Top to Bottom:
The official Springbok bracelet on sale from May 2013
Chris Burger Petro Jackson Fund established in 1980
Hand-made green, yellow and white beaded Springbok bracelet
Box of 100 for retail
The Bead Co. (Pty) Ltd has launched the official licensed Springbok Rugby bracelet. The green, yellow and white beaded bracelet is the commercial
organisation's
latest product and a first for South African rugby. Proud South Africans can now show their support for their national team, all day, every day by wearing the symbolic accessory. Signet Licensing, representing South African Rugby Union (SARU) negotiated and approved the licensing agreement, which includes a donation from the sale of the Springbok bracelet to the Chris Burger Petro Jackson Players' Fund.
Morné du Plessis, Founder and Director of the Players' Fund says, "We are extremely pleased to have been selected by The Bead Co. to benefit from the Springbok bracelet. The company's other bracelet initiatives, namely Rhino Force, Ocean Force, Cycle Force and Earth Force have created awareness and generated funding for other great organisations and we are honoured to be part of this innovative form of fund raising. As a proudly South African non-profit organisation, working for South Africans, supported by South Africans, we are all connected in our love for the game of rugby".
The bracelet allows Springbok rugby fans all over the world to show their support of our BOKKE by simply wearing a symbol of great pride, a hand-made, beaded, Springbok bracelet. Become instantly recognisable as a supporter of South African rugby and help make a difference in the lives of injured rugby players.
Buy your Springbok bracelet today, online for R45, through SA Rugby's portal www.sarugbyshop.co.za or www.sarugbybracelet.co.za. To order your bracelet, call Lisa on +27 83 225 0824. Like 'SPRINGBOK BRACELET' on Facebook and find out about our participating retailers.
ENDS
Issued by The Bead Co. Pty Ltd  
T: 083 609 1111
www.sarugbybracelet.co.za
About The Bead Co. (Pty) Ltd
The Bead Co. (Pty) Ltd is a commercial organisation that believes in conservation through commerce.  It creates awareness and raises funds through the sale of beaded bracelets. Proceeds from the sale of various cause-related, hand-made bracelets are donated to credible NGO's and charity organizations. The Bead Co. creates local community employment and opportunities for small business development. To date almost 1 million bracelets have been sold worldwide via retail and e-commerce. Make a difference with a beaded bracelet such as RHINO FORCE/ OCEAN FORCE/ Qhubeka CYCLE FORCE.
About Chris Burger Petro Jackson Players' Fund
The Chris Burger Petro Jackson Players' Fund is named after two young rugby players who were fatally injured playing the game. The Fund provides assistance to injured rugby players in many different ways, one being the provision of mobility equipment such as wheelchairs, as well as many other comforts that seek to improve the quality of their lives. The Fund is a Non-Profit Organisation (NPO) as well as a registered Public Benefit Organisation (PBO) and dependent on fund raising and donations.