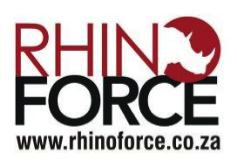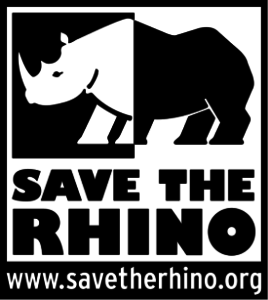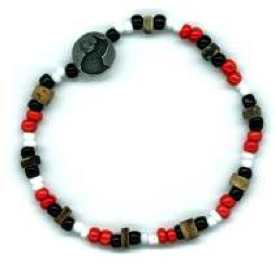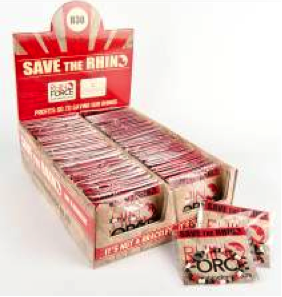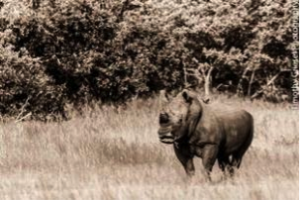 Images from the Top:
The original Rhino Force beaded bracelet
Save The Rhino International, registered in 1994
Box of 100 bracelets for retail
White rhino, captured by Timothy Griesel
RHINO FORCE is proud to announce a partnership with international beneficiary "Save the Rhino International (SRI)", a renowned rhino conservation
organisation
that works to conserve all five species of rhinos in Africa and Asia. The RHINO FORCE bracelet significantly beaded with red, black and white beads will now be sold internationally, to raise awareness and funding for SRI's urgent rhino
programmes
on both continents.
Registered in 1994, Save the Rhino International recognises that the future of wildlife is inextricably linked to surrounding communities. By funding field projects and through education, SRI delivers long-lasting and widespread benefits to rhinos and other endangered species, ecosystems and to the people living in these areas. The funds raised are used to support projects that address rhino conservation through a number of measures.
Deputy Director, SRI, Susie Offord says, "The RHINO FORCE bracelets have been a huge success in South Africa already. Partnering with RHINO FORCE on an international level is a win-win relationship for SRI as the bracelets help to raise awareness about the plight of rhinos in Africa and in Asia, whilst raising much-needed funds for rhino conservation. We're really looking forward to developing this relationship further."
The original RHINO FORCE bracelet, launched in June 2011, is synonymous with rhino conservation, and remains a South African best-seller, having facilitated and raised over R4.6 million to date.  RHINO FORCE believes in urgent, immediate and direct action, supporting one of the International Union for Conservation of Nature's (IUCN) principles of translocation as a method to save a species from extinction.
Recently, the bracelet organisation facilitated funds for a translocation of six white rhino from South Africa to Botswana – a safe haven in terms of security and monitoring. Relocating rhinos to suitable habitats spreads them out over a larger area, and enables rapid growth rates, and is why we have 400 separate populations in 9 African countries today.
This global alliance allows RHINO FORCE, a commercial company, to support and financially assist SRI's conservation of the species in Africa and Asia, where they face critical threat.
"We created the beaded rhino bracelet for people all over the world to purchase and wear, to provide and show their support for rhino conservation. The bracelet has become the tangible, globally recognised symbol for the love of rhinos, and a solidarity bracelet for the cause," says Joanne Lapin Thorpe, co-founder of RHINO FORCE. "We've aligned internationally with SRI, share a common ethos, and are dedicated to supporting this incredible organisation, as we drive our bracelet initiative into the international arena. We look forward to growing our support for SRI over the years in a number of exciting initiatives."
Over 500,000 local and international supporters have donned the conservation accessory to show their support, and raise awareness of the critical threat our rhino populations face – three of five species are listed as "critically endangered" on the IUCN red list.
To help save rhinos in Africa and Asia buy a bracelet online at www.rhinoforce.co.za, they will post anywhere in the world.
ENDS
Issued by The Bead Co. (Pty) Ltd  – RHINO FORCE
T: 27 (0)83 609 1111
Media enquiries to: lisa@rhinoforce.co.za
About RHINO FORCE
RHINO FORCE is a dynamic company that creates international awareness and raise substantial funding for rhino conservation, through the sale of RHINO FORCE beaded bracelets. RHINO FORCE incorporates fundamental business principles to create philanthropy through commerce. Through the design, development and activation of retail, corporate and electronic market platforms, RHINO FORCE successfully achieves its mission – 'Conservation through Commerce', commercially known as 'Save the Rhino…Buy a Bracelet'.
About Save the Rhino International
Save the Rhino International works to conserve viable populations of critically endangered rhinos in Africa and Asia. By funding field projects and through education, its goal is to deliver material, long-lasting and widespread benefits to rhinos and other endangered species, ecosystems and to the people living in these areas. It aims to increase the number of rhinos in genetically viable populations in the wild; enhance the integrity of ecosystems and to ensure that local communities benefit from conservation activities.
www.savetherhino.org