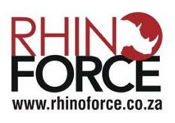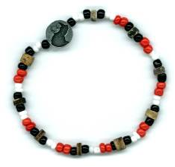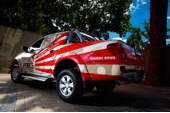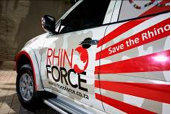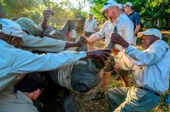 Images:
Proceeds go to Africa Foundation
Rhino translocation by &Beyond
Mitsubishi proud sponsors
The beaded RHINO FORCE bracelet
Mitsubishi-sponsored Triton
Mitsubishi Motors SA, which markets a growing range of passenger cars and light commercial vehicles in South Africa, has joined RHINO FORCE, who is behind the red, black and white beaded bracelet, which creates public awareness and raises funds for translocation projects to save the species.
"We see this cause as being very close to the hearts of many South Africans and it fits in well with some important core principles of the Mitsubishi brand, namely adventure and the outdoor lifestyle," says the marketing manager of Mitsubishi SA,  Braam Faul. "It's as a win-win sponsorship because while we are helping conservation initiatives we are also increasing the awareness of the Mitsubishi brand as a concerned corporate citizen."
RHINO FORCE, which was founded by Chris Thorpe and Joanne Lapin in 2010, has a sustainable business model that raises funds for Africa Foundation, earmarked for projects focused on saving Africa's rhino populations. Translocations are fundamental to the ongoing survival of the endangered species. Six white rhino have been moved to safe haven in Botswana's Okavango Delta, where excellent security and monitoring systems are in place for their protection.
Rhino Force's involvement includes an important corporate social responsibility element where local communities are involved in producing and packaging beaded rhino bracelets that are sold at more than 600 retail outlets throughout SA.
The bracelets are sold for R30, with 50% of the money going to the communities which produce and pack the items, 30% going to Africa Foundation to fund projects through direct action. The balance of 20% goes to marketing and distribution costs as well as a small profit for the retailer.
Mitsubishi's sponsorship includes the loan of a 2013 double cab Triton 3.2 diesel bakkie with RHINO FORCE branding to the organisation, while the motor company will use its dealerships as retail outlets for the bracelets.
In return Rhino Force will get involved with joint promotional events with Mitsubishi and its dealers, all of which will benefit the project in terms of publicity and brand awareness.
"I believe we have a responsibility to get involved in a project such as this which aims to drastically reduce the number of these animals being killed for their horns," added Braam Faul. "With 158 killed in South African already this year after the loss of 668 last year, this is a major undertaking and I am proud our company is playing a role in conservation."
Mitsubishi has a proud South African heritage which spans back over 75 years. The South African product range has been specially suited to this country's unique conditions and lifestyle and offer vehicles for the serious off roader, the urban family, the small businessman, the outdoor sportsman and the image-conscious young roader. Mitsubishi customers enjoy the benefit of a nationwide dealer network, a dedicated, knowledgeable and enthusiastic sales teams, highly professional service centres, finance and insurance packages, tailor-made to suit every need.
ENDS
Issued by RHINO FORCE
T: 083 609 1111
lisa@rhinoforce.co.za
About RHINO FORCE
RHINO FORCE is a dynamic brand that creates international awareness and raises substantial funding for rhino conservation, through the sale of RHINO FORCE beaded bracelets. RHINO FORCE incorporates fundamental business principles to create philanthropy through commerce. Through the design, development and activation of multiple retail, corporate and electronic market platforms, RHINO FORCE successfully achieves its mission – 'Conservation through Commerce', commercially known as 'Save the Rhino…Buy a Bracelet'.
About &Beyond
&Beyond is one of the world's leading experiential travel companies, designing personalised luxury safaris in 16 African countries, as well as India, Bhutan and Sri Lanka. The company also owns and operates 32 extraordinary lodges and camps in Africa and India's wilderness highspots. Established in 1991, &Beyond takes exceptional care of its guests in order to make a difference; its commitment to sustainable responsible travel and community empowerment is world renowned.
About Africa Foundation
Founded in 1992 to support &Beyond's commitment to conservation and communities, Africa Foundation has built up a highly successful track record in empowering and enriching the lives of communities living adjacent to &Beyond's safari lodges; specifically in the areas of healthcare, education and enterprise development. It is a registered trust and non-profit organisation, supported by its partners &Beyond, Africa Foundation UK, Africa Foundation USA, lodge guests and donors – www.africafoundation.org.za