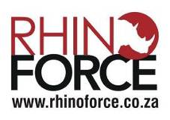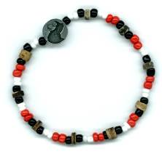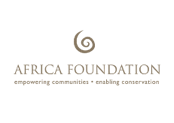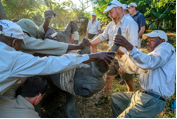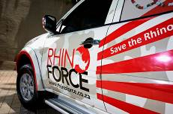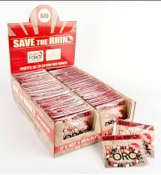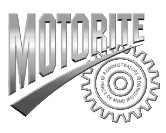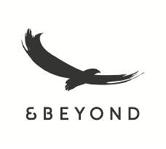 Images from Top to Bottom:
RHINO FORCE beaded bracelet
Proceeds from bracelet sales go to Africa Foundation
White rhino translocation
RHINO FORCE's Mitsubishi-sponsored Triton Double cab
Box of 100 bracelets
Motorite and &Beyond – other partners in the translocation
RHINO FORCE, proudly sponsored by Mitsubishi SA, and Africa Foundation (&Beyond's social development partner) have joined forces for 2013. Proceeds received from the sale of RHINO FORCE beaded bracelets will influence conservation through direct action namely a translocation project.
"We have been approached by many rhino organisations for funding. However, when Les Carlisle, &Beyond's &Beyond's Conservation Manager, approached us and explained his dreams of  translocating rhino from South Africa to Botswana we realised that our RHINO FORCE bracelet offered a  perfect fit together with &Beyond and Africa Foundation's conservation plans", says Joanne Lapin from RHINO FORCE.
To date, RHINO FORCE has already donated R325,000 to Africa Foundation and facilitated over a million Rand from generous donors, including lead sponsor Motorite Administrators.
Founded in 1992 to support &Beyond's commitment to conservation and communities, Africa Foundation – a registered non-profit organisation – completes the model of integrating conservation, high-end tourism and communities to their mutual benefit.
Proceeds from the sale of RHINO FORCE bracelets are earmarked for projects focused on saving Africa's rhino populations. A small portion will also be used for conservation initiatives in the local communities surrounding &Beyond's wildlife areas to educate people on the importance of conservation to ensure the survival of our rhino for generations to come.
96 rhino have been poached this year alone; and in 2012 we lost 668 rhino to illegal poaching, a 49% increase from the previous year. Botswana has an excellent security system in place to protect these endangered animals and will be a safe haven for the six relocated rhino.
After years of negotiation and planning, the translocation process is underway. Game scouts from Botswana have undergone intensive tracking and monitoring training by &Beyond. The movement and behaviour of the six rhino will be closely monitored using satellite collars and telemetry and tracking equipment supplied by Chipembere Rhino Foundation.
"We are pleased to know that all the funds we donate or facilitate go directly to translocation, which is an effective way to counteract poaching.  We also believe it's important to involve and educate the communities in this fight," says Chris Thorpe, Director of RHINO FORCE. "We look forward to supporting &Beyond, and The Africa Foundation's good work through our new partnership."
ENDS
Issued by RHINO FORCE
T: 083 609 1111
www.rhinoforce.co.za
About RHINO FORCE
RHINO FORCE is a dynamic brand that creates international awareness and raises substantial funding for rhino conservation, through the sale of RHINO FORCE beaded bracelets. RHINO FORCE incorporates fundamental business principles to create philanthropy through commerce. Through the design, development and activation of multiple retail, corporate and electronic market platforms, RHINO FORCE successfully achieves its mission –  'Conservation through Commerce', commercially known as 'Save the Rhino…Buy a Bracelet'.
About Africa Foundation
Founded in 1992 to support &Beyond's commitment to conservation and communities, Africa Foundation has built up a highly successful track record in empowering and enriching the lives of communities living adjacent to &Beyond's safari lodges; specifically in the areas of healthcare, education and enterprise development. It is a registered trust and non-profit organisation, supported by its partners &Beyond, Africa Foundation UK, Africa Foundation USA, lodge guests and donors – www.africafoundation.org.za
About &Beyond
&Beyond is one of the world's leading experiential travel companies, designing personalised luxury safaris in 16 African countries, as well as India, Bhutan and Sri Lanka. The company also owns and operates 32 extraordinary lodges and camps in Africa and India's wilderness highspots. Established in 1991, &Beyond takes exceptional care of its guests in order to make a difference; its commitment to sustainable responsible travel and community empowerment is world renowned.
About Motorite Insurance Administrators
Motorite is the largest independent motor related insurance administrator in Southern Africa. Leaders in the administration and sales of warranty, maintenance and service plan products in the entire motor industry.
www.motorite.co.za
About Mitsubishi SA
Mitsubishi has a proud South African heritage which spans back over 75 years. Prospective and existing customers will enjoy and benefit from the excellent market focus for which Imperial Holdings is renowned and could look forward to the exciting new products to enter the local market in the near future. The South African product range has been specially suited to this country's unique conditions and lifestyle and offer vehicles for the serious off roader, the urban family, the small businessman, the outdoor sportsman and the image-conscious young roader. Mitsubishi customers enjoy the benefit of a nationwide dealer network, a dedicated, knowledgeable and enthusiastic sales teams, highly professional service centres, finance and insurance packages, tailor-made to suit every need.