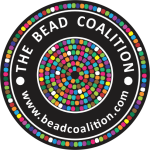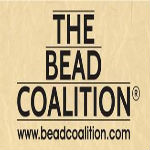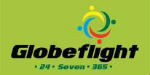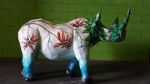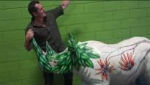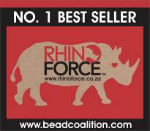 Images:
Globeflight's 'Ilanga' will tour the country from July to September by

IAPF's Damien Mander takes a selfie with Ilanga

RHINO FORCE bracelets will be sold along the route
5 June 2014
Top South African courier company, Globeflight, has joined the fight to save South Africa's endangered rhino through a country wide 'Spot the Rhino' campaign, whereby Globeflight's beautifully painted rhino mascot named 'Ilanga' (meaning 'Sunshine') who will "lead the charge."
Globeflight hopes to raise funds and awareness for rhino conservation, by choosing two RHINO FORCE beneficiaries to donate to – IAPF (International Anti Poaching Foundation) and Wilderness Wildlife Trust – as well as selling RHINO FORCE bracelets along the way.
Ilanga will tour South Africa and Swaziland in her own specially branded van from 4 July to September. At each town, green 3D rhino puzzles will be distributed at strategic points for people to assemble and take 'selfie' photos or videos in interesting and fun locations. The photos must be posted to Globeflight's Facebook page
(www.facebook.com/Globeflight1), YouTube channel or the company's Twitter handle (@Globeflight1) to stand a chance to win fantastic prizes.
For every 'selfie' posted, Globeflight will donate money towards the Wilderness Wildlife Trust's Black Rhino relocation project and the IAPF, which, amongst other laudable initiatives, trains anti-poaching rangers.
Entrants must use #Ilanga and # Globeflight in all posts to qualify. Winners will be selected according to the number of 'likes' their photo or video receives. Prizes include weekly draws and cash and fantastic hampers.
At the end of the campaign in September, three entrants deemed the 'most travelled', 'most creative' and 'best selfie' will be awarded an all-inclusive three night stay for two at a five star South African resort complete with a wildlife experience.
In addition to the 'core' competition, entrants can also win weekly prizes by identifying the landmarks Ilanga will be photographed with along her journey. All participants need do is log on to Globeflight's website (www.globeflight.com) identify the landmarks and complete the entry form.
In a bid to boost awareness of the campaign, Globeflight has partnered with popular local breakfast show 'Expresso' which will track Ilanga's movements on its website, and assist with judging. The final three winners will be announced on Expresso on the 26th of September.
Local celebrities have already endorsed the interactive campaign. Once the campaign comes to an end, Ilanga will be auctioned at Hyde Park by 'My Rhino' to raise additional funds for rhino conservation initiatives.
Ilanga will visit Swaziland, Witbank, Polokwane, Nelspruit, Kruger Park, Richards Bay, Pietermaritzburg, Durban, East London, Port Elizabeth, George, Cape Town, Bloemfontein, Kimberly, Johannesburg and Pretoria. For further details on when Ilanga will be in your area, go to www.globeflight.com.
ENDS Issued by The Bead Coalition for Globeflight T: 083 609 1111 www.beadcoalition.com / lisa@thebeadco.co.za
About The Bead Co. (Pty) Ltd The Bead Coalition [Pty] Ltd is a commercial business based in Johannesburg. The organization's bespoke accessory range includes beaded items hand made by previously unemployed communities in rural South Africa and sold to the world. Cause themed accessories such as the rhino bracelet raise awareness and funds, making significant environmental, conservational change. Other bracelets include OCEAN, CYCLE, LITERACY, HERITAGE, MOTOR NEURON DISEASE and HIV. www.beadcoalition.com
About Globeflight: Globeflight is a full service, proudly South African courier company. The company has branches across South Africa and enjoys representation in Israel, London and Hong Kong. Globeflight was the first South African courier company to operate outside of the country; is one of the primary preferred suppliers to South Africa's medical and financial sectors and is the official supplier to SA Rugby. The company has achieved numerous accolades and was recently named top South African courier company by PMR Africa www.globeflight.com